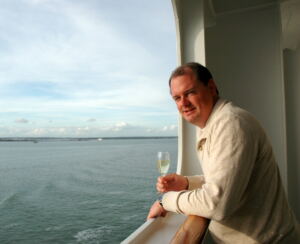 Brian's interest in the great transatlantic liners began in 1985 with the discovery of the wreck of the Titanic.  After joining the Titanic Historical Society, Brian attended several of their conventions and met a number of Titanic survivors.  Those conventions served to heighten his interest, and this is where he bought his first piece of ocean-liner memorabilia, starting his personal collection.  As the years passed, Brian began specializing in the financial, engineering, and technical side of steamships.  Among his greatest interests are the histories of White Star and Cunard.
Brian frequently crosses the Atlantic on board Queen Mary 2 giving illustrated presentations for Cunard about the history of some of their greatest liners, using mostly never-before-seen images.
He currently curates an archive of over 20,000 pre-1969 ocean-liner images, often being sought out to advise on shipping documentaries and books.
Brian has also worked with Biltmore Estate (George Vanderbilt's mansion in Asheville, North Carolina) on several projects and has recently completed a chapter about Biltmore for the revised version of "Vanderbilt Homes" by Robert King.
His favorite ship is Cunard's Caronia of 1949, about which he co-authored a book with well-known maritime author and lecturer Bill Miller.  He has a lifelong passion for RMS Olympic and has written a photo book about her using rare, unpublished images from archives and private collections around the world.
In his spare time, Brian enjoys cruising and has sailed on several historic liners, including the QE2 and Regal Empress (ex-Olympia of the Greek Line).  He frequently travels overseas on buying and research trips and is currently working on several ocean-liner projects.
With his intense interest in ocean-liner collectibles, Brian founded Luxury Liner Row with the sole purpose of bringing the best-quality steamship memorabilia to collectors.  Having been collecting for 30 years, Brian is extremely knowledgeable about all aspects of liner collectibles, be it furniture, fittings, paper, or advertising pieces.  Constantly striving to exceed each client's expectations, Brian works with private sources around the world to obtain the finest and most unusual memorabilia available.  If you're looking for that special piece (or pieces!), let him know.  He'd love to find it for you!