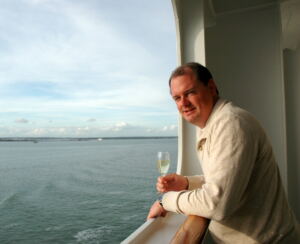 Brian Hawley's interest in ocean liners began in 1985 with the discovery of the wreck of the Titanic.  After joining the Titanic Historical Society, Brian attended several of their conventions and met a number of Titanic survivors.
Those conventions served to heighten his interest in ocean liners and start his personal collection of liner memorabilia.  His particular interests lie in the engineering, technical, and financial side of steamships.  Among his favorite lines are White Star, Cunard, and the French Line.
His favorite ship is Cunard's Caronia of 1949, about which he has co-authored a book with well-known maritime author and lecturer Bill Miller.  His has had a lifelong passion for RMS Olympic and has completed a photo book about her as well.  Signed copies of either book are available by contacting Brian directly.  Send an e-mail to brian@luxurylinerrow.com
In his spare time, Brian enjoys cruising and has sailed on several historic liners, including the QE2 and Regal Empress (ex-Olympia of the Greek Line).  He frequently takes research trips overseas and is currently working on several ocean liner projects.
With his intense interest in ocean-liner collectibles, Brian founded Luxury Liner Row with the sole purpose of bringing high-quality ocean liner memorabilia to collectors at reasonable prices.  Having been collecting for nearly 25 years, Brian is extremely knowledgeable about all aspects of liner memorabilia. Constantly striving to exceed the client's expectations, Brian works with private sources around the world to obtain the finest and most unusual memorabilia available.  If you're looking for that special piece (or pieces!), let him know.  He'd love to find it for you!